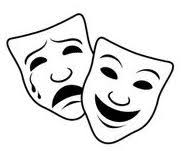 Mullen Public Schools
One Act 2018
Contact Information:
Eligibility:
Students must meet NSAA eligibility requirements and those set out in the Mullen Public Schools Activity Handbook.
Practices:
Cast and Crew are expected to attend assigned practices. If a participant cannot attend a practice, they must let Miss Hendricks know prior to that practice. Any participant that misses several practices may be assigned to a different role, or will not be able to attend competitions.
Competitions:
Students attending competitions are expected to be respectful individuals. Any behavior issues will be dealt with immediately. Students are expected to abide by the Mullen Public Schools Handbook at all times.
One Act Tentative Practice/Performance Schedule
October:
19th @ After Sports 4:30- All

22nd @ 6:30pm -All cast and crew

23rd @ 7:15am-Addie, Ruth, May

24th @ 7:15-Jack, Paul, Floyd

29th-@ 6:30pm/7:15-Cast (VB Subs)

30th @ 6:30pm/7:15-All/Addie and Foreman (VB Subs)

31st @ 7:15 Addie and Foreman
6th @ 6:30pm/7:15-All (FB Playoff)

8th @ after school/sports-All or 7:15 Jack, Paul, Floyd (State VB)

9th @ after school/sports-All or 7:15 Addie, Ruth, May (State VB)

12th @ after school/sports-All or 7:15 Addie and Foreman (FB Playoff)

13th After school/sports-All

15th After school/sports-All

New list 16th After school/sports-All (Full dress rehearsal)

18th-5:00 pm (Sunday, FB State)

25th-5:00pm (Sunday, before Public Performance)
November 20th MNAC @ Cody

November 26th Public Performance @ 7:00

November 28th Districts @ Creek Valley